Enjoy a rough and ready trip in a zebra striped four-wheel drive! You'll head west from Montego Bay/Negril to the islands interior and discover the beauty, culture and history of this amazing country. Complete your tour with a short walk along the river where you can cool off in the natural pools while discovering hidden waterfalls!
Inclusions:
- Hotel pickup and drop off
- Jeep Tour
- River Walk
This is the only way to see Jamaica's natural beauty and experience her culture, history and diversity. This tour will take you through Jamaica's rugged interior in a Safari-Themed 4X4 Land Rover. You'll be shown the real Jamaica with many pit-stops to highlight Jamaica's local culture including a stop at a former slave hospital converted into a church in 1846. Navigate through Jamaica's rocky terrain with your own personal guide/driver/bartender who will keep you intrigued with many stories and anecdotes about Jamaican life.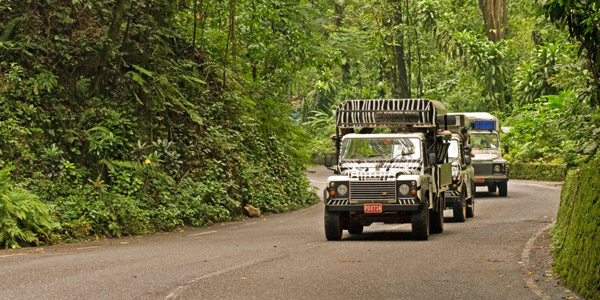 To top it all off, you'll take a once in a lifetime river walk through the tropical foliage, discover hidden waterfalls and relax in a slow, flowing natural swimming pool. Hear the birds, feel the natural mineral waters and smell the rainforest!
World Travel Award 2007 – Winner for Caribbean's Leading Nature Adventure Excursion Operator!
Special Offer – Save almost 10% off the recommended retail price when travelling through December 31, 2009 – BOOK NOW!
Schedule:
Departure Point: Tour commences with pickup from your Montego Bay or Negril hotel
Departure Time: 9:00am – Departure times vary depending on hotel location.
Exact departure times will be advised when you call to reconfirm your tour.