If you are looking for an excellent adventure ride, and a cool new experience you can choose to take part in a Tubing Safari. This is an area where you will be able to go down the river in a tube and swing from ropes and relax in the fabulous water.
LET THE ADVENTURE BEGIN!
The rapids speed up just enough to increase the excitement... There is interesting commentary along the river highlighting a great deal of the River's natural beauty, which usually remains unseen.
While on this tour you will tube through areas of Jamaica that are still unspoiled.
At the end of the river one can enjoy complimentary refreshments and get ready for the transfer back to your hotel.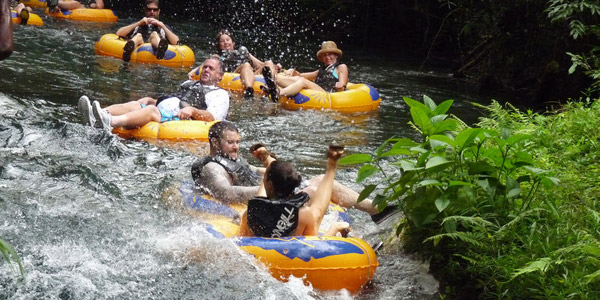 Chukka Caribbean Adventures is the new corporate name for the long established Chukka Cove and Chukka Blue Adventure Tour companies operated by the Melville and Byles families in Jamaica. With Corporate offices based in Montego Bay, the company distinguishes itself as the number one nature adventure tour provider in the region.
The Chukka business was founded in 1983 by Danny Melville offering an original Horseback Ride 'n' Swim tour at Chukka Cove Farm near to the tourist town of Ocho Rios. The popularity of this tour led the company to add another adventure programme, the Mountain to Sea Bike Adventure tour in 1998 and the company has sustained an impressive programme of expansion from that time. Before long, Danny was joined by his three sons, Marc (Managing Director), Alexander (Finance Director) and Daniel Jnr. (Director) in the growing family business. In 2001 the Melville's partnered with John Byles and opened an operation in Montego Bay under the name Chukka Blue with John as Managing Director.
Today, the company operates twenty-eight (28) tours in Montego Bay, Ocho Rios and St. Mary, in Jamaica, Belize City, Belize, Half Moon Cay, in The Bahamas and Grand Turk in the Turks & Caicos Islands.
Website: http://www.chukkacaribbean.com